Customer Reviews
08/14/2023
Jonathan L.

United States
I recommend this product
Works well!
I've used the cooler to transport cold and cool items from the store, and also waters for work. It retains the cold well. The "plastic insert" is awkward and it's quite heavy for the space provided but overall it's well done!
08/16/2023
Nutshell Coolers
Hi Jonathan, thanks so much for sharing your feedback! I'm happy to hear you're finding that Nutshell keeps all your stuff cold during transport! Will follow up to get your suggestions on how we can improve the liner inserts :)
07/13/2023
John S.

United States
I recommend this product
Great Product!
Loved that it folds up; easy to store. Keeps items cold for a long time. Pays the coconut producers for a previously unused byproduct while benefiting the planet.
07/14/2023
Nutshell Coolers
Thanks so much for your review, John! I'm so happy to hear you love Nutshell We'll pass on your kind feedback to our farmer partners in Bicol :) - Tamara
07/07/2023
Emma A.

United States
I recommend this product
Super useful and easily foldable!
Love it! I love being able to take it on picnics or trips, it's super useful and reliable! And it's perfect for pictures :) It's also easily foldable which I appreciate since I like to efficiently use space in my apartment. You can see on the picture how it fits perfectly under my couch!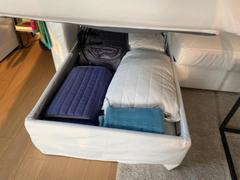 07/14/2023
Nutshell Coolers
I'm so glad you're finding Nutshell so convenient for apartment living, Emma! Thanks so much for your review, and love the photo, you've found a perfect spot for your Nutshell!
07/07/2023
Ana C.

United States
I recommend this product
My Go-to Companion for Beach and Boat Days - Nutshell Cooler
I've had my share of coolers, but the Nutshell Cooler has quickly become my favorite. It's truly perfect for my regular beach visits and boat trips. What impresses me most is its remarkable insulation. It keeps my snacks and drinks icy cold, no matter how long my beach day or boating expedition lasts. The Nutshell Cooler has no problem standing up to the sun's sweltering heat - it's a champ at keeping the inside cold. And let's talk about convenience. Nutshell designed this cooler with comfort in mind. It's super easy to carry around, whether I'm crossing sandy beaches or stepping onto a boat. This is such a welcome change from the bulkier, more cumbersome coolers I've used in the past. In a nutshell (pun intended), this cooler is a beach and boating game-changer. The Nutshell Cooler's fantastic at doing what it's meant to - keeping things cold for long periods - and its comfort during transport is the cherry on top. It's a seaside essential that I can't recommend enough!
07/14/2023
Nutshell Coolers
Wow! It makes me so happy to hear you're taking Nutshell along on all your beach and boating adventures, and loving it! Thank you so much for your review and recommendation, it means a lot to us :) - Tamara
06/26/2023
Matt B.

United States
I recommend this product
Amazing sustainable cooler!
Love using this cooler to bring drinks and snacks on picnics and outdoor adventures. It does a great job keeping everything cool! Plus, I really appreciate that, instead of plastic like typical coolers, Nutshell uses coconut husks for insulation - a novel idea I haven't seen in any other products. I also love supporting companies like Nutshell that develop meaningful relationships with their suppliers (in this case coconut farmers & factories in the Philippines). Makes me feel really good about supporting them!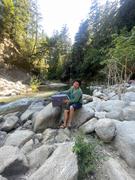 07/14/2023
Nutshell Coolers
Really appreciate your kind review, Matt! We're so grateful for your support, and so happy you love Nutshell. Looks like such a beautiful spot in the photo!